Gabrielle Delima Wins 2022 3MT® Competition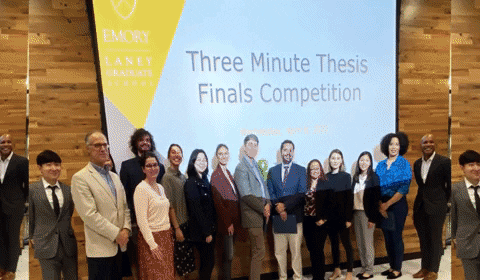 Doctoral students spend hours immersed in the intricacies of their research. Every spring, the Three Minute Thesis (3MT) competition challenges them to explain that extensive research in only three minutes, using non-specialist language and a single, static presentation slide.
On April 6, the Laney Graduate School held its annual 3MT competition as part of Graduate Student Appreciation Week. The event was conducted as hybrid event, with both virtual and in-person attendance options. Eleven finalists competed for cash prizes and the winning title, which was decided by a panel of alumni judges. These judges evaluated the students based on the effectiveness of their communication style, overall clarity, and comprehension.
Gabrielle Delima, a 5th year Ph.D. candidate in the Microbiology and Molecular Genetics program, emerged victorious with her presentation on "Flu Viruses: Better Together." Her research centers on influenza A viruses and she plans to pursue a career in science communication upon graduation from the Laney Graduate School.
Runner-up, Timothy McNinch, is a Ph.D. candidate in Religion, who studies the narrative literature of the Hebrew Bible. McNinch presented a "3-Dimensional Reading of the Biblical Ark Story."
Learn more here.
Thanks to your generosity, Laney Graduate School raised $22,574 during Emory Day of Giving 2022! With your support, Laney is positioned to prepare a diverse, inclusive student body for success through scholarship, research, teaching, and programming.

This work would not be possible without you!
Reminder: Emory University requires all students, faculty, and staff to be vaccinated and boosted against COVID-19, regardless of work or study location, with exceptions only for those with approved medical or religious exemptions.
Get the latest updates on COVID-19 info for the Emory community at Emory Forward .
Reminder: Emory University international travel policy requires all Emory-sponsored international travel to be approved by the student's school of enrollment. For LGS students, all Emory-related international travel, regardless of funding source (e.g., PDS award, program funding, etc.) MUST be approved through the LGS International Travel Permission Form.
Review the Laney Graduate School's International Travel Policy here.
Contents
Use the links below to advance to a specific category.
New! Noche de Gala Carnaval 2022
The Centro Latinx, Latinx Student Organization (LSO), and Latinx Graduate Student Association (LGSA) invite you to the Noche de Gala 2022. Celebrate your Carnaval spirit with us where food and drinks will be provided, as well as shuttles from Emory to Atlanta Contemporary Museum. Music by DJ Superior! End the semester with a party! Limited tickets available. Don't miss out!
Date: April 16

Time: 8 p.m. - 12 a.m.

Location: Atlanta Contemporary Museum
Learn more here! Tickets Required.
New! BCDB T32 Spring Symposium
Come learn, discuss science, and make connections at the BCDB T32 Spring Symposium. Our keynote speaker is HHMI Faculty Scholar Dr. Fernando Camargo who will discuss his cutting edge research studying lineage and function of hematopoietic stem cells. After lunch, we will have a panel discussing careers in government. In particular, Drs. Paul Doestch, Sharon Soucek, and Scott Wilkinson will discuss their differing career phases and their journeys to their current careers in government.
Date: April 15

Location: Whitehead Biomedical Research Building Auditorium (G01)
Dobes Award Session: Making Your Science Research Relevant to Students and Strangers (in Teaching and Outreach)
During this presentation from Dean's Teaching Fellow Donna McDermott, participants will learn how to make their science research relevant by using strategies to identify their audience's existing interests. Participants will use this skill to create a game or activity that illustrates a key concept in their research.
Date: April 12
Time: 3 - 5 p.m.
LGS-BLUE BBQ
Diversity and community are important to Laney Graduate School. That is why LGS-EDGE (Emory Diversifying Graduate Education) is launching a new group: LGS-BLUE ( Black Men at Laney United in Excellence). In the last few years, LGS has seen an increase in Black male enrollment in Laney. EDGE and LGS-BLUE aim to connect and promote community among Black and brown, male-identifying graduate students through various social, academic, and professional activities.
Our first event of the year will be a meet-n-greet with other grad students who would like to affiliate with the group. Be prepared to just kick back, relax, and enjoy some good BBQ. Beverages (wine and beer) will also be served. If you identify as male and black/brown please stop by! Share this opportunity with your colleagues!
This is the first of many groups that will really focus on intersecting identities among our diverse student body, so stay tuned!
LGS-EDGE and the Office of LGBT Life Present: ' Introduction to LGBTQ+ Allyship'
Join LGS-EDGE and the Office of LGBT Life for an engaging conversation! Facilitated by Danielle Bruce-Steele, Director of LGBT Life, and Jackie Veliz , Program Coordinator for LGBT Life, this workshop will focus on pronouns, gender, gender expression, sexual orientation, and how to be an ally to those who identify as part of the LGBT community. It is designed for all students and provides a safe space to ask questions and learn.
Date: April 19
Time:

12 – 2 p.m.

(Lunch will be provided)

Location: ESC N104
Enter the Prospectus Panel
Working on, or toward, your dissertation prospectus or proposal? If so, join us for our "Enter the Prospectus" panel! Four Laney graduate students from different disciplines will come together to discuss their experiences and provide tips for planning, writing, and defending the prospectus. Mike Chiddo (Philosophy), Shabnam Hossein (Psychology), Julian Currents (English), and Keith Menhinick (Religion) will share their experiences and describe their respective departmental expectations. We will then open up for a Q&A and discussion. Our aim is to facilitate knowledge sharing amongst graduate students and aid those entering this phase of their doctoral studies. Hope to see you there!
Date: April 26
Time: Noon – 2 p.m.
Location: Jones Room, Woodruff Library
Hosted by: Mike Chiddo (Philosophy)
Opportunities & Reminders
New! Piedmont TATTO Fellowship
Applications are now open for the Piedmont TATTO Fellowship on Sustainability and Curriculum Development. This interdisciplinary program is open to graduate students in all disciplines and professional programs who want to expand their teaching repertoire around sustainability, environmental, and social justice issues.
Deadline Extended : April 20, 2022
New! Reminder: NCHA Due April 15
Don't forget to participate in the National College Health Assessment by April 15. Every student that completes the survey will receive a Starbucks gift card. Be sure to check your inbox and help us collect data to improve the experience of Emory students! Students who do not receive the survey are still eligible for prizes – just spread the word about NCHA and participate on social media with the hashtag #EmoryNCHA2022 for a chance to win a gift card to the university bookstore.
Students with Disabilities: Input Requested
The Alliance for Disability and Accessibility Promotion and Training (ADAPT@Emory) is a new organization focused on creating a community for graduate students and allies whose lives and academic careers have been impacted by disability.
What: If disability has affected your education or life as a student, ADAPT would love to hear from you! Please join us at one of our listening sessions, to help us learn how we can better represent you and support the current accessibility needs of our student body. During these listening sessions, we'll discuss our experiences as disabled graduate students at Emory and how we can address these challenges on an institutional and community level.
Who: Disabled graduate students and post-docs, including individuals with visible and/or invisible disabilities. Looking for input from those who identify with any of the following: learning disabilities and neurodivergence, mental health, chronic Illness or pain, mobility disabilities, injury and recovery, or any other disabling condition. Students are welcome regardless of whether or not they are registered for accommodations at Emory.
Apply for the Spring 2022 Advanced Degrees Mentor Program
Applications are open for the Spring 2022 Advanced Degrees Mentor Program, hosted by The Center for Global Health Innovation (formerly the BioEd Institute Emerging Leaders Network). Mentees will attend professional development sessions before being paired with two mentors, who you will work with over the summer. The program wraps in August, but participants are welcome to continue relationships with mentors.
When: Professional development sessions begin April 13; kickoff with mentors is May 13
Graduate Student Writing Group
Are you working on a writing project? If so, our group can help you get it done, 25 minutes at a time. Join our weekly graduate student writing group (online via Zoom) for some dedicated writing time (through multiple pomodoros, i.e. focused writing intervals) as well as the opportunity to obtain feedback from a writing tutor if desired. Feel free to share the link with fellow LGS students and don't forget to like us on Facebook.
Graduate Student Assistant Needed: Emory Center for Digital Scholarship
The Emory Center for Digital Scholarship is hiring a graduate assistant to support the development the Apollo 15 Learning Hub, an online resource with the objective of assembling, preserving, and making available primary source records of Apollo for research, education, history, and as an example of a unique human endeavor. The graduate assistant may also support the creation and development of a website for an Apollo families project, based on research being conducted by Dr. Tracy L. Scott.
EDGE Talk Time
Laney EDGE (Emory Diversifying Graduate Education) wants to connect with you about opportunities and challenges related to justice, equity, diversity, and inclusion in your program and at Laney. Set up some time to talk today!
Appointments for Laney Graduate School Students
When: See appointment calendar, linked below:
Dr. Amanda Marie James , Associate Dean, Diversity, Inclusion, and Community Engagement
LGS Student Affairs Appointments
The Laney Graduate School Student Affairs team wants you to know they're here for you and are happy to meet in person or virtually if you want to connect. They can help connect you to resources, answer questions you might have, or discuss concerns. Feel free to reach out any time.
Appointments for Laney Graduate School Students

When: See appointment calendars, linked below:

Dr. Jennifer Cason, Assistant Dean of Student Affairs
Claire Beaudro, Assistant Director of Student Affairs and Student Wellness
Emily Neutens, Assistant Director of Student Affairs for GDBBS
Let's Talk
Let's Talk is an informal, free, and confidential consultation service that allows students to speak with a clinician and receive support for any challenge they may be experiencing. Although Let's Talk consultants are mental health professionals, these consultations are not mental health treatment but can be used to receive short-term support and resources.
Appointments for Laney Graduate School Students

Weekly on Wednesdays

Time: 2:30 - 4:30 p.m.

Schedule a HIPAA-compliant video appointment on Microsoft Bookings here.
SIRE Fellowship for Graduate Students in Natural Sciences
This fellowship will award up to three graduate student top-off fellowships in 2022-23 to advanced graduate students in the natural sciences. Fellows will commit about 8-10 hours per week in the Undergraduate Research Partners Program, an Emory College program promoting undergraduate research for students in all disciplines.
Emory Student Telehealth
24/7 Medical and Mental Health


Report Community

Compact Concerns
Emory Flexible Teaching Toolkit

The toolkit is a collection of resources

designed to support the development of

flexible courses from CFDE, TLT, ATS,

and Library Services. Resources are

helpful to graduate students involved in

teaching at every level.
Attention Laney Graduate Students:
Do you have an idea for a story or event that should be featured in this newsletter? If so, please let us know! Email lgs.communications@emory.edu with your idea!