Mendiola Wins 2022-2023 Kharen Fulton Award
---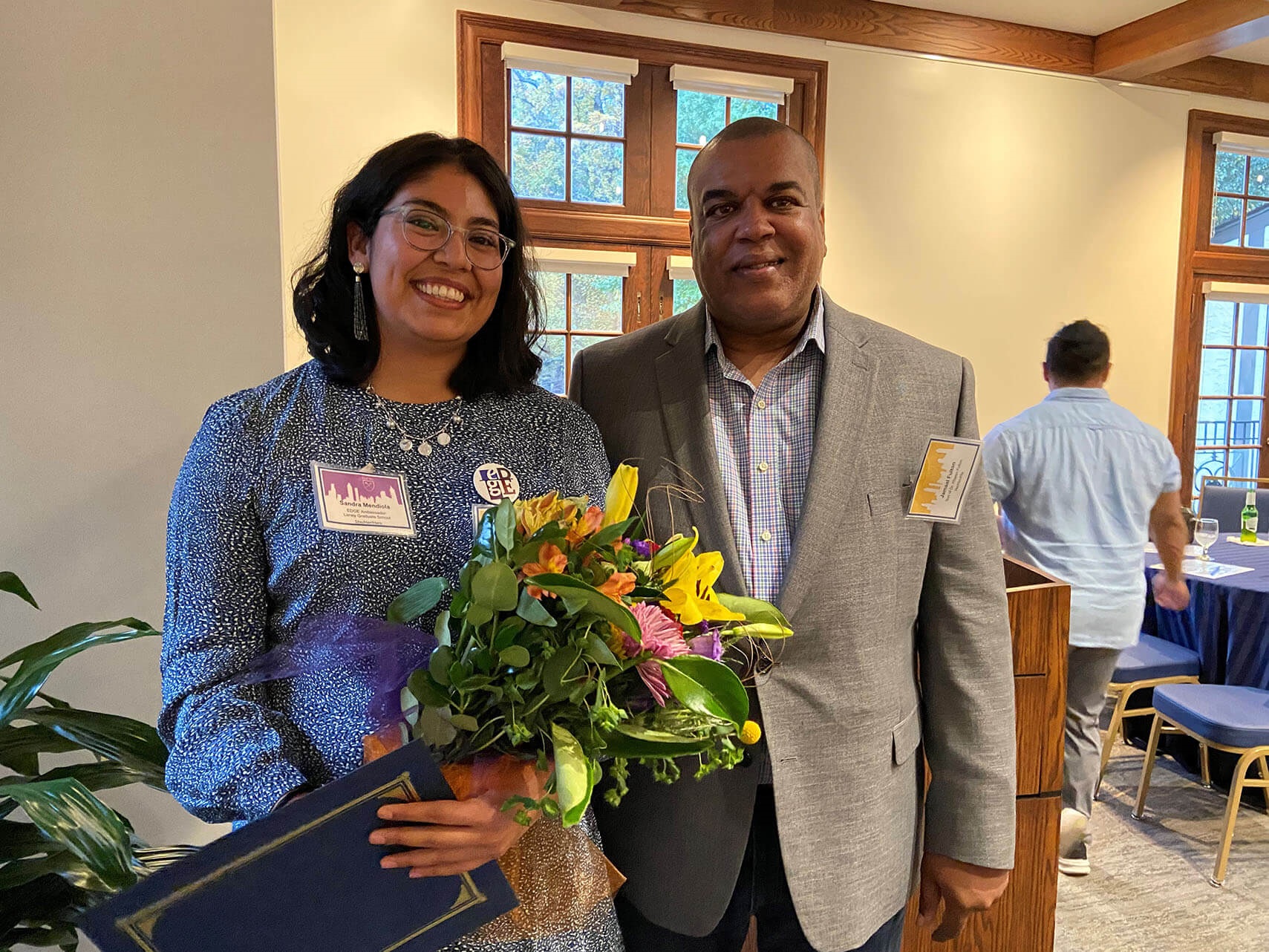 Sandra Mendiola, a PhD student in the Population Biology, Ecology, and Evolution (PBEE) program, was recognized for 'herculean' efforts to promote diversity, inclusion at Emory University.
From the moment Sandra Mendiola, a PhD student in Population Biology, Ecology, and Evolution (PBEE) arrived on campus at Emory University in 2017, she started working to create more equitable spaces in her department, her program, her university, and her field.
Laney Graduate School (LGS) recognized Mendiola's efforts by naming her the winner of the 2022 – 2023 Kharen Fulton Award for Diversity, Inclusion, and Community Engagement in Graduate Education.
The award was created to honor the life and legacy of Dr. Kharen Fulton, long-time Director of Recruitment, Diversity, and Admissions at LGS. It is presented annually to a doctoral student who has demonstrated an outstanding record of dedication to diversity, inclusion, and community engagement on the Emory campus and beyond.
Mendiola's dedication to diversity, inclusion, and community engagement is clear and noticeable – as evidenced by the multiple nominations she received for this honor. She was described as a leader, a visionary, and a tireless advocate for diversity and inclusion at Emory. Nominators described her efforts as "dogged" and "herculean."
"When a structure does not exist to champion diversity, inclusion, and engagement at Emory, Sandra gets to work creating one," one of her nominators wrote. "Every effort Sandra is involved in across the community at large radiates her thoughtful, earnest determination to build an inclusive space for historically marginalized scholars."
During her time at Emory, Mendiola has been actively involved in Laney's EDGE (Emory Diversifying Graduate Education) program as an ambassador; she has served as vice president of the Latinx Graduate Student Association; and she played an important role in creating the curriculum for the LGS-SOAR (Summer Opportunity for Academic Research) program.
She has mentored undergraduates through the Emory Research Partners Program, Summer Undergraduate Research Experience, and HealthPREP (Professions Readiness Education Program) initiatives and is a regular volunteer panelist for graduate education events put on by Emory QuestBridge, an organization that reaches out to low-income students.
She was also instrumental in bringing the first Society for the Advancement of Chicanos/Hispanics and Native Americans in Science (SACNAS) chapter to the state of Georgia, here on Emory's campus.  
For Mendiola, receiving this honor and celebrating at the LGS Annual Diversity Reception offered an opportunity to reflect on the work that people across Emory are doing to improve the experiences of students from historically excluded groups in the academy.
"I'm grateful for the opportunity to carry on Kharen Fulton's legacy alongside such a dedicated group of people," she said. "At times, it seems that progress towards equity and inclusion is slow and it's easy to overlook small victories. Winning this award, to me, is a reminder that the effort I put into diversity initiatives is worthwhile and has made a positive impact on my community."